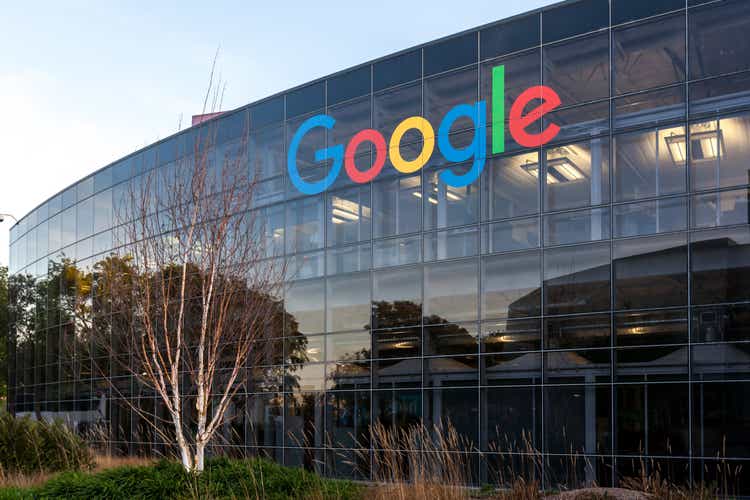 Thesis
After Snap Inc.'s (SNAP) below consensus earnings report, Google (NASDAQ:GOOGL, NASDAQ:GOOG) sold-off more than 5% (-76 billion market cap). The market is implying a negative cross-read for the world's largest digital advertiser, indicating that recessionary risks weigh on ad budgets. However, I see it as a mistake to compare Snap's experimental advertising platform with Google's market-leading ROI offer.
In fact, I see it as highly likely that Google will crush the Q2 consensus estimates. And given the negative sentiment surrounding the stock, I seen significant upside if my argument materializes.
That said, Google is scheduled to report earnings on July 26th, and I see three reasons why the stock could rapidly appreciate (I estimate >10% within 3 weeks) after the earnings announcement: 1) sentiment is very negative and vulnerable to upside surprise; 2) Google's search advertising business is resilient even amidst recessionary headwinds; and 3) Cloud is still a strongly growing business vertical.
Earnings Preview
According to the Bloomberg Terminal, as of July 17th, 34 analysts have submitted their estimates for Google's results. Total sales are estimated between $66.85 billion and $72.06 billion, with the average estimate being $69.95 billion. Notably, if we take the average as the anchor, sales are estimated to grow 13.03% as compared to the same quarter in 2021. Respectively, EPS estimates are $1.05 and $1.54 with an average of $1.29.
1) Negative Sentiment
In anticipation of Google's Q2 earnings, the sentiment is weak. For reference, since the start of 2022, analysts have consistently revised the company's EPS estimates downwards to reflect macro-economic challenges and likely tougher competition for advertisers decreasing advertising budget. Accordingly, Google stock is down by about 22% YTD.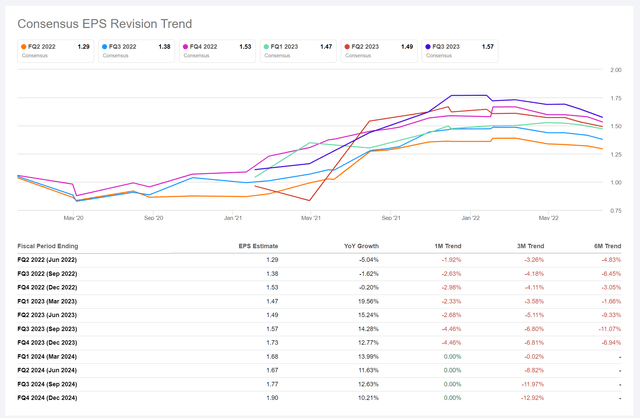 The negative sentiment is bullish, in my opinion. It makes the stock vulnerable to upside surprise. I argue the negative sentiment is the condition that needs to be met for Google stock to significantly appreciate after the earnings announcement. The following two arguments deliver the catalyst.
For reference, Netflix' (NFLX) Q2 results were not spectacular. In fact, if we consider the company's high-growth history, a 8.6% beat on depressed revenue estimates is questionably positive. However, sentiment surrounding Netflix and the streaming industry was so depressed that the stock appreciated by more than 15% within 5 days.
2) Resiliency Of Search Advertising
Regardless of the negativity surrounding the macro-economic environment I see Google's advertising business, which is about 60% of the company's total revenues, as relatively resilient. There are two key points to note here: first, businesses need to advertise–even more so when inventories are building and demand is fading. While it is true, that business' advertising budgets will likely be cut in a recession, not all platforms experience the impact proportionally. I argue experimental platforms such as Snap and Twitter (TWTR) will see a significant impact, while high-ROI solutions will enjoy resilient demand.
This is where the second argument comes to play: Google's search and YouTube's video advertising are notoriously the ad solutions with the highest ROI (perhaps only Meta Platforms (META) can match Google). In addition, in a recessionary environment advertisers want to closely track their ad investments. That said, digital advertising in general, but Google's analytics platform in particular, offers advertisers a highly effective platform to monitor and adjust their spending — something that magazine and TV advertising cannot provide. Finally, investors should also consider Google's diversity of advertising clients, both from an industry as well as from a geographical perspective.
3) Cloud Still A Growth Business
After digital advertising, the cloud business is Google's second largest revenue contributor. And I am equally positive on the company's performance in this vertical. In Q1 this year, the large players including Microsoft (MSFT), Amazon (AMZN), and Google have highlighted strong demand for cloud solutions and company's ambitions for digital transformation. Microsoft, for example, made a statement that implies how the cloud business is poised to benefit from inflationary forces:
Digital technology is a deflationary force in an inflationary economy. Businesses – small and large – can improve productivity and the affordability of their products and services by building tech intensity. The Microsoft Cloud delivers the end-to-end platforms and tools organizations need to navigate this time of transition and change.
In that context, Microsoft guided revenue from intelligent cloud between $21.1 and $21.35 billion, which would imply a quarter-over-quarter growth of more than 10% – and about 50% on an annualized basis. While Google has not issued guidance for its cloud business, investors could expect a similar performance, in my opinion.
Notably, in late May Thomas Kurian, the CEO of Google's cloud business gave an interview where he affirmed the strong demand and interest for the company's cloud solutions.
One More Argument
I would also like to highlight that Google has announced a $70 billion share repurchase program in Q1 2022. This is about 5% of the company's total market capitalization. Read the below statement and pay attention to the wording.
On April 20, 2022, the Board of Directors of Alphabet authorized the company to repurchase up to an additional $70.0 billion of its Class A and Class C shares in a manner deemed in the best interest of the company and its stockholders, taking into account the economic cost and prevailing market conditions, including the relative trading prices and volumes of the Class A and Class C shares.
As of Q1 2022, Google still had more than $134 billion of cash and cash equivalents on the balance sheet and I believe the company will take advantage of the depressed share-price and repurchase significantly more shares going forward. While there is no/little downside if the company doesn't increase the program, there is attractive upside if Google does. In any case, a 5% share buyback program should provide significant support to the company's valuation.
Risks To My Thesis
Going into earnings, I see two major risks that might cause my thesis to break: First, there is of course the possibility that Snap's results were not idiosyncratic, but indeed a guidance for the entire digital advertising space. Second, it could be that even though Google delivers above expectations, that the market remains fearful with regards to the company's 2H 2022 performance. In that case, investors would likely seek to take advantage of the stock price strength and sell Google stock on the results. That said, Google's guidance will be key to watch. But vice versa could also be thinkable: That even though Google delivers weak results, investors seek to buy the name on share price weakness and pessimism.
How I Trade The Earnings
Snap's revenue expectations were only about 2% below consensus. However, the stock lost 40% of market capitalization on the announcement. The market is very cautious and nervous regarding the digital advertising space–too pessimistic in my opinion. This negative set-up will make Google's share-price vulnerable to upside surprise. Netflix performance after the company's lukewarm Q2 results could provide investors a possible reference.
Personally, I am bullish on Google's Q2 potential and believe the company will surprise to the upside. All that said, going into earnings, I am increasing my exposure to Google stock and buying time-sensitive call options as a short-term play.
Google stock trades at a one-year forward P/E of about x19.5. This is far too low for a high-growth FAAMG stock such as Google. I continue to see more than 60% upside for Google and target > $170/share as the company's fair implied value.
My coverage initiation article on the company: Google: The Cheapest Among The FAAMG Companies.